Comments from our clients

Below are just some of the many wonderful messages we've received from our clients.
Frank and Vicki David - USA 8 April 2015
Frank and I want to thank you for the incredible trip that you planned for us. This was our first trip to New Zealand, and I hope it won't be our last. Every detail was planned and considered, even down to our assigned seats on the train trip that assured us of the best view possible.
We loved all of our accommodations and the hosts could not have been more gracious. We had to leave our accommodations before breakfast in Dunedin, and our hostess Eva, of Fletcher Lodge, even made a special trip to purchase muffins, juice, biscuits, and fresh fruit to send us on our way.
You managed to take our input and transform it into such a memorable experience for us. I know you and I had our "discussions"regarding wine tasting and you did manage to get one wine paring tucked into the schedule but it was enjoyable for Frank and not over the top for me. Good Going! Our feelings about the glacier "walk" are still ambivalent: you must have thought we were up to it, but we weren't so sure when we saw what it entailed. We were with a group of "twenty-somethings", and the only thing that kept us going on this "walk" was the thought of bragging rights when we got home.
We so appreciated the fact that you were readily available to alleviate our concerns regarding rental car "issues" (who put that guard-rail there?!?) and driving times/distances. But you were as readily available during our trip just as you were during the planning of the trip. In fact, you were much more accessible than travel agents within my own city.
Once again, we are sending you much thanks and appreciation for making this a dream come true.
Sincerely,
Frank and Vicki David.
The Warrens Family - USA 20 July 2013
Just taking an opportunity to thank you for all of your work in respect of our trip at the beginning of June. Everything ran seamlessly, the weather co-operated and we had an amazing time touring the South Island. We have talked as a family and wanted to provide you with some feedback on what we felt were the highlights.
1. Mou Waho Island Nature Reserve, Lake Wanaka. Of all of the amazing things we did in the two weeks we travelled around, our family agreed unanimously that this was the best. Chris Riley was a tremendous guide, the weather was perfect, and it was magical to be the only 'mammals' on this beautiful little island surrounded by snow-capped Alps. Interaction with the Weka birds was amazing.
2. Dart River Jet Boat and Canoe. The wind was a bit 'bracing' at the start but this was also an incredible way to see the mountains and be out away from all the tourists.
3. Dunedin and Otago Peninsula. What a lovely little university city Dunedin is. We fell in love with it a little. And to have the Otago peninsula so close and seeing all of the wildlife was such a surprise.
4. The Hollows Log Cabin, Te Anau. This was our favorite accommodation and Pam was an incredible hostess. Listening to thunderstorms roll up the valley each night was very memorable.
5. Chapel Apartments, Dunedin. A funky and spacious apartment right in the centre of town, one block from the Octagon. Location was perfect for poking around the city.
We felt there was a perfect balance between seeing many things in the South, spending an adequate amount of time in each spot.
Thanks again for your help in coordinating everything. Robert Warren and Family - July 2013
Tom and Karen - USA 22 Mar to 07 Apr 2013
First of all David let me take this opportunity to thank you personally for your effort and performance in organizing our New Zealand dream vacation.
If I may speak first to the relationship:
We were literally on other sides of the world, and communication should have been at the very least, trying. I personally experienced a level of communication, trust and responsiveness that was better then people with that I talk to who might be next door. It was certainly the standout hallmark of our relationship. Considering the fact that I found your organization from a web search, it was particularly satisfying.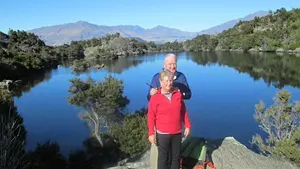 Our planning process was relatively short and your responsiveness during critical moments made the vacation planning seamless. When we had a significant problem due to a flight cancellation, you were there throughout the whole process into the middle the night.
Your attention to detail is amazing, But it's your dedication to knowing and understanding your vendors that takes your service over-the-top. I cannot speak to the financial value as I have no real terms of reference, But I was fully satisfied with the value received, and the services rendered.
The trip plan:
Although I am sure you organized the same trip or similar variations of it for many people, it felt as if the process was personalized and custom built at every turn for our individual wishes. We investigated many options from first-class hotels, to Caravan, bus trip or cruise. We had not thought of the advantages of a luxury B&B drive yourself vacation. Your advice was priceless
The travel Bible that you prepared for us, should become an industry-standard, congratulations! The travel flow was aggressive but not overwhelming.
New Zealand:
I still cannot figure out why New Zealand is so special. Certainly there is great scenery and hotel accommodations in any country. Perhaps it is the notion of being unspoiled and remote. Perhaps a little bit wild, and the warmness of the people. We don't really care why,we just know that we like to return some day.
Details:
There were no accommodations that we didn't feel were in the luxury category and that were not personally visited and approved by you.

David, this was a great trip made possible by you alone. A personal thank you.
David & Patty Frothingham Savannah USA -April 2012
Dear David.
We had extremly high expectations for our NZ trip, and we now feel that the trip was at least 3 or 4 times better than our expectations. When asked what our favorite part was, the answer is, "The trip." You did an incredible job for us, and we are most grateful. We have been in close communication with Cindy and Tom, and have had a look at their itinerary. It looks wonderful, and we'd love to join them! It's amazing how different theirs is from ours - in spite of some repeats.
Kate Murdoch
May 2012
We have just returned from a fantastic holiday to New Zealand arranged by New Zealand Encounters. David Hall was our contact both in organising the trip and also whilst we were away. No detail was spared in making our travels comfortable and everything ran like clockwork thanks to his planning. The 'final' supplied was our 'Bible' as we travelled and was very informative - even suggesting where we could have dinner in a lot of places. The directions were excellent as we navigated around. We enjoyed our accommodations which were very comfortable and perfect for our needs as a young family. We had some car trouble when we travelled from Queenstown to Te Anau – at a service station the attendant filled up our rental car with unleaded fuel instead of diesel. I telephoned David who proceeded to take care of everything – much to our relief. He stayed back at the office that night making sure that we had transport for our tour the next day in case the mechanic could not fix the car. He also followed up with the service station to try and get compensation for the mishap. This was something he did without being asked and which really impressed us. I would highly recommend New Zealand Encounters for their professional service and their ability to tailor a holiday based on the interests and needs of the client. Thank you David!
Regards,
Suzanne Light & Bob Newcomer USA
Feb 2012
I am finally getting caught up with my life and savoring the fantastic trip we just took. I wanted to let you know how much we loved New Zealand, the kiwis , the beautiful scenery and the art and cultural experiences. Your choice of accommodations were fabulous and varied. The hosts were gracious and interesting. We especially appreciated Christine , from Doolan's Country Retreat and Richard and Peter of Te Puna Wai, such gracious and interesting people. The views were fabulous, especially at the Rees Apts. In Queenstown. The Chapel Apts. In Dunedin were so unique and the location was perfect. We didn't have to drive anywhere. Thank you for recommending the Doubtful Sound Cruise, over Milford Sound. It was mystical and a highlight of our trip. We loved the other tours also, the Maori Cultural Evening, the glow worms at Te Anau and the Elm Wildlife tour. We're now sorting through our many photos to continue our fond memories.
Monika Merz & Michael Miller – Japan
January 2011
We thoroughly enjoyed our trip and very much appreciated your help.

Overall it was an incredible trip and again we thoroughly enjoyed ourselves.

The country is absolutely beautiful and I cannot remember when we have been so amazed at such beautiful scenery. Put that together with some wonderful people, exquisite wine, fabulous food. We loved it. (Michael's comments)

It was especially wonderful to have conversations with all of our hosts – both from the accommodations and the activities as it helped us learn a lot more about the country.

You recommendations were excellent and I very much appreciate your help on my allergies. We certainly would recommend your service.

David Milam & Family USA – January 2011
Dear David & Team

I thought the service was extremely thorough. Living in Japan, we have come to appreciate excellent service. NZ Encounters offered excellent service. Your company absolutely took the stress out of traveling to a new country. I have and will strongly continue to recommend your company to my friends and hopefully, we will get to travel with you again.

NZ Encounters is an excellent, full service organization. I am an engineer and I love being detail oriented. Your planning reminded me of a detailed plan that came together flawlessly. It is a rare and valuable find. Please keep everything just the same

Tiffany & John Woodruff – USA
December 2010
Dear NZ Encounters Team,

First of all, thank you for a wonderful trip. It really was our best trip ever and we would not have seen or done half as much as we did without your help, so thank you! The trip you planned for us was amazing - really incredible!

The trip exceeded our expectations. The country was just beautiful in so many ways. We were surprised about how much it reminded us of Hawaii (without the crowds).

James Jacobs & Family USA December 2010

Dear David and Team,

Thank you for arranging our visit to New Zealand, we had a wonderful time and your help when some of our family were sick was so helpful, we just loved New Zealand and would like to return, attached is a picture of the Family at Lake Wanaka.


John and Alison Coote, United
This was our first trip to New Zealand and the service provided by NZ Encounters was invaluable. During the planning of our itinerary we were given plenty of helpful advice to shape the holiday to give us a wonderful introduction to many aspects of New Zealand. The personalised guide containing directions, contact numbers, suggested activities and restaurants allowed us to enjoy our holiday without having to search for the information elsewhere. The personal recommendations we were given by the company were all current and of a high standard. Whenever we needed assistance during our trip it was quickly and efficiently provided, allowing us to continue enjoying our holiday. We have no hesitation in recommending NZ Encounters for a wonderful, personalised trip of a lifetime.

Zhang Yewei, China


It is a perfect service for us, in other words it is a pleasant cooperation between your company and my family, our Children's favorite activity was the Horsepower Experience in Christchurch, just a wonderful day thank you.




Lan & Dennis Yeung, Canada


We found that New Zealand does live up to its reputation for its vast unspoiled outdoors which is well maintained and looked after, reflecting how New Zealanders place a high value on their country's natural environment. We appreciate being able to see so much beauty and such great variety of landscapes as we travelled through the country, due also to your ingenious planning. But most of all, we appreciate the people of New Zealand. They are one of the most hospitable, friendly and kind peoples we have ever met and get to know; it is a privilege we do not take lightly. Our vacation would not have been as great an experience if not for the people of New Zealand, and folks like you, Dimitri and your co-workers. Your sincere wish to do a great job for your clients is evident and well appreciated. Given that we had left our planning very late, there really was'nt much time to do a more throughour Planning job, So, we feel that you have done a marvellous job for us, given the time constraints. We definitely appreciate the personal touch you have extended us.

Mrs. Olivia Chan & Family

We return to Singapore yesterday evening from our holiday in New Zealand. On behalf of my family and my son Ronald, I wish to sincerely thank you for arranging such a wonderful holiday for my family in the South Island of New Zealand. It was an unforgettable event in our life. My family also appreciate the excellent services provided by all staff and people involved during the trip. Please help my family to say a big "THANK YOU" to them all once more.

Joanna and Henry, London

Exceptional, personal service from NZ Encounters! They take all the hassle of planning a trip away from you. Tell them your wishes and this miraculous trip appears, covering everything you want to do! We highly reccomend them!!!

Penny Takier USA


New Zealand Encounters couldn't have done a more outstanding job in aiding us with our plans to see New Zealand by plane and car. When the bad weather hit the north island, we even got a phone call making sure we were okay and not having any problems. They made themselves available to us the entire trip, but we never had the need to make a phone call. Our accommodations were exactly what we asked for and all the hosts at the hotels were wonderful in answering any questions we had about the local area. The detailed plans and maps made for us were of great comfort. We never felt left alone or deserted if we needed them throughout the entire planning process. Thank you Colin and David for a long remembered vacation. I do miss New Zealand......I would love to live there and have sheep (only for sheering).

Bill & Judy, USA

The best trip ever! Brilliant, as you say! Thank you so much.

Noel and Sue Bennett, USA

Now that we have returned from our New Zealand trip, I want to thank you for the wonderful experience you provided us. On a scale of 1 to 10 for vacation trips, it was a solid 10.

Raffaella and Family, USA

... after 20 gorgeous dreaming days! Anyway, it's been fantastic, I'm speechless, don't know how to put it. A life lasting memory for us, a milestone.

Phil and Norman, USA

We felt that the service was truly excellent. It was the perfect first trip for us and very well planned. We appreciate your efforts. We hope to visit again and will certainly contact you for help.

Stew, Lisa and Family, Japan

We really enjoyed our total vacation! Even though the boys are young, we really enjoyed everywhere and are talking about coming back again in a few years to hit the sights we missed.

Peter and Eileen, UK

In general we both enjoyed our time in New Zealand immensely and think that having the trip arranged by you was a good way of doing it for people like us with no contacts or relatives in NZ. Thank you for your efforts and think you did a very good job.

Jon and Diana, USA

We had a fantastic trip to New Zealand and are in love with your country! You were invaluable in planning our trip, and we thoroughly enjoyed our experience because of the guidance you provided. We will definitely recommend New Zealand Encounters to other travellers.

Ross and Mike, Australia

We think you did a remarkable job, given the time frame you had to work with, we were particularly impressed with the questionnaire at the beginning of our relationship, it was concise and enabled both parties to get down to the business of finding exactly what was needed to make the holiday a success.

Gerry and Flo, UK

...thanks for arranging such a fantastic holiday - the best we have ever had. The holiday totally exceeded our expectations, and we very quickly acclimatized to your very professional arrangements.

The Idelsons

What a great time we had in NZ and how excellent and professional were all your arrangements. Many thanks for adapting the schedule to our time frame and needs and providing a care-free, detailed framework of arrangements and guidance that still allowed us a good deal of freedom to make our own choices.

The Benson Family, USA

What a perfect family vacation you created for us! You convinced us to do things we never would have booked for ourselves but the boys really enjoyed it all and we really enjoyed their excitement over it all. Thank you for your phone calls during our travels.

Jane and Bob, California, USA

Every arrangement you made was right on! From directions, to restaurant recommendations to shopping opportunities - how do you do it? Should you ever need a referral, please use us!

Mary and Jake Jacobson

... how much we appreciated the first rate job you did in planning and scheduling our trip. We especially appreciate your availability to us while we were in NZ and your ability to juggle arrangements and reservations for us. To say we enjoyed working with you would be a genuine understatement. Thank you for making a supremely enjoyable holiday possible for us.

Tom and Elizabeth Tierney

Thank you very much for the professionalism displayed regarding our trip to your wonderful country. Everything was nifty - especially Hadleigh B and B - we look forward to making referrals to you with complete confidence that people will be secure in all arrangements.

David M. Gerstein, USA

Now that we have returned to New York, I want to thank you and the others at New Zealand Encounters for the excellent services which were provided. Our trip turned out to be everything that one could hope for. We were very pleased with all of our accommodations.

Marcia and Bruce Mumbrue

Full of delightful surprises! The pace was perfect. We never felt rushed or that we were missing too much. My husband and I count this vacation as one of our best. Thanks again for all of your help.

Gordon and Gordie Earle

The biggest surpise for me was how uncrowded New Zealand is (especially cars on the road) and how unspoiled the scenery. It was a very plesant surprise. I would use NZ Encounters again and have already recommended you to friends. You were great.

Art Schiff

In summary you did a superb job. What a magnificent country with delightful people, charming accommodations and fantastic activities! We have only just begun to recover from the time difference and travel "exhaustion" but will never recover from the fun, beauty and excitement that you helped us to experience. So many thanks.

Malcolm and Susan Robinson

This note is just to let you know that we almost certainly made an error in not choosing your carefully designed plan for our travels to New Zealand.